issue 108 is out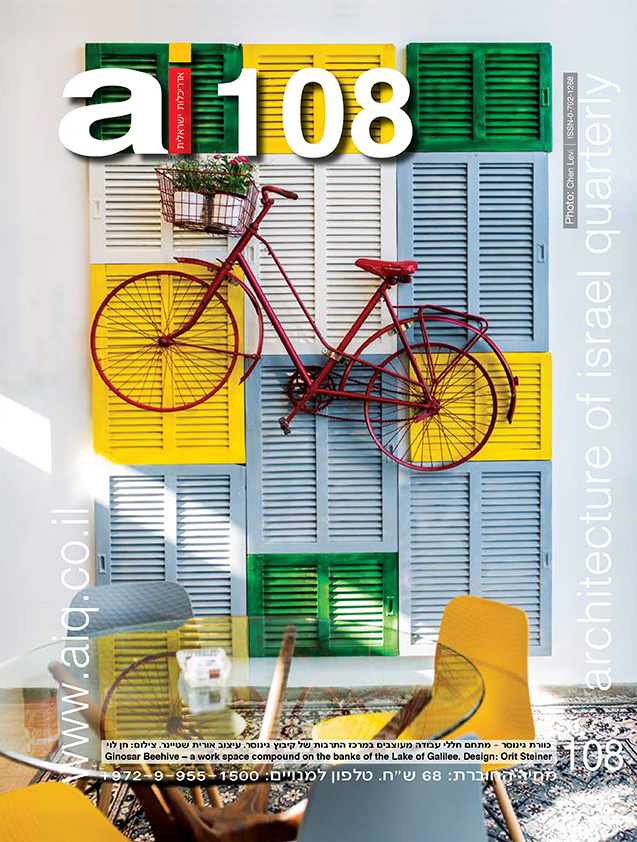 and...

never make a mistake…

In the article about the multi-purpose building at Nahal Soreq (AI#106), designed by Poreh Ya'akobi Karni Architects, two names from the design team were left out: Associate Architect Uri Poreh and Construction Engineer Yaron Gal.

awards & competitions

The 2016 Rechter Prize for Architecture was awarded to Architect Asaf Lerman for his redesign of the Soraya and Younes Nazarian library at Haifa University. The judges commented that the addition of building areas to the monumental building, originally designed by Oscar Niemeyer, digging into the topography and expanding it horizontally, was complex and unique. This resulted in the addition of significant public space, as well as lighting and ventilating the spaces within the original building.

Following the failed efforts of the Architects Association to improve the conditions of the Technion medical students' dormitory competition, it withdrew from administering the competition and decided to announce a conceptual competition of its own, in order to cheer up the few architects who oppose disregard for their dignity from any clerk given the power to do so.

A competition for selected architects for redesigning public space in western Rishon Lezion, was won by Guggenheim Bloch Architects. Initiated by the Engineering Department, the aim was to connect two important commercial poles – The Gold Mall in the north, and the G Mall in the south. The judges noted that the architects presented a programmatic idea that would generate a lively, multi-use area, in case the Light Rail ever gets there from Tel Aviv.

events

Architect Dr. Eran Neuman, Head of the Azrieli School of Architecture at Tel Aviv University, has been appointed Director of the Israel Museum. Head of the Digital Laboratory for Architecture Research and the Tel Aviv Museum Architecture Archives, Neuman will replace James Snyder who is stepping down after 20 years. Dr. Eran Neuman graduated from the Architecture Department at Bezalel and received his PhD from the Architecture History and Theory Program at the University of California.
Israel United Architects Association will hold its elections in March 2017. Eligible for election are members of the Association who paid their membership fee for 2016 or 2017. Candidates may apply simultaneously for several positions before 01/03/17. The names of the candidates will be published on 22/03/17. The elections will be determined by a computerized system.
architects@barak.net.il.

Planned in 2010 by Ron Arad, the Design Museum Holon was ranked sixth place among the "Coolest design museums in the world" by The Telegraph. Also on the list: Design Museum London, The Vitra Design Museum in Germany, and The Museum of Arts and Design (MAD) in New York.
http://www.telegraph.co.uk/travel/lists

exhibitions

Entire Life in a Package - Exhibition by artist Orna Ben Ami will take place at the UN Building, New York, between 27/2/17 – 10/03/17. Focusing on the human aspects of refugees, some of the works use Reuters pictures, erasing some details, while metal sculptures highlight their features of pain.

The Munio Gitai Weinraub Museum for Architecture in Haifa is currently showing an exhibition focused on the Bedouin School Kan al-Ahmar. Built in 2009 from recycled materials, by the Italian organization Vento Di Terra for the Jahalin community near Maaleh Adumim, the Civil Administration's decision to demolish it was rejected by the Supreme Court. The exhibition is intended to reinforce its existence. Closing: 23/03/17.

Artist Roy Menachem Markovich exhibition - Good Grief is showing at Herzliya Artist's House. In the style of "objets trouvés" the exhibition includes scrap items found on the street - unneeded remnants of life. The exhibition is accompanied by a video tour in an anonymous German town.
11/2/17 – 25/3/17.
Curator: Ran Kasmi Ilan.

Israel Caricature and Comics Museum, Holon will present three exhibitions of ever relevant super-heroes and historical events. 9/3/17 – 14/10/17.
Curator: Michal Paz-Kelp.

Project

Built in 1958 by Architect Michael Kuhn on the water front of the Kineret, the Ginosar Cultural House was abandoned about twenty years ago, after brief use as a library. About a year ago, a Kibbutz member took a private initiative to renovate the deteriorating building, turning it into gracefully designed rental work spaces.
Design: Orit Steiner.

students

The Technion Architecture faculty awarded prizes to last year's excellent students. First prize went to Nir Pollack for his project "Human Spaces and the Machine in Future Technology", supervised by Architects Shmaya Zarfati and Jonathan Natyanan.

Second prize went to Maram Naamana for her project – Fauda - a rehabilitative project for a distressed neighborhood in the village of Jisr as-Zarqa, supervised by Architects Gaby Schwartz, Fatina-Zbeidat, and Ronen Ben-Aryeh.

Third prize went to Yamit Avital for her project "Another Country", supervised by Architects Ganit Kassif Meizlitz and Liat Miller.

First prize in the Department of Landscape Architecture was awarded to Michal Vollner for her project "Watershed".

Second prize was awarded to Nariman Ksabra for her project "Available Space".

Moria Orit Avitan won an Honorable Mention for her project "It Will Rise from the Ashes".

All Landscape Architecture projects were supervised by architects Matanya Zak, Ram Eisenberg, Dafna Grinstein, Naomi Angel, and Shachar Tzur.

The Niksir Award for the audience's favorite project was given to Elina Gardashnik for her project "Urban Disorder", supervised by architects Oren Ben-Avraham, Iris Kashman, and Oren Shachar.

Exhibition of the Bezalel Master program was held at the Hansen House Design - Media and Technology Center, Jerusalem.

That's all for this quarter.

Please write in,
Rachel

ruchi@netvision.net.il
issue 107 is out...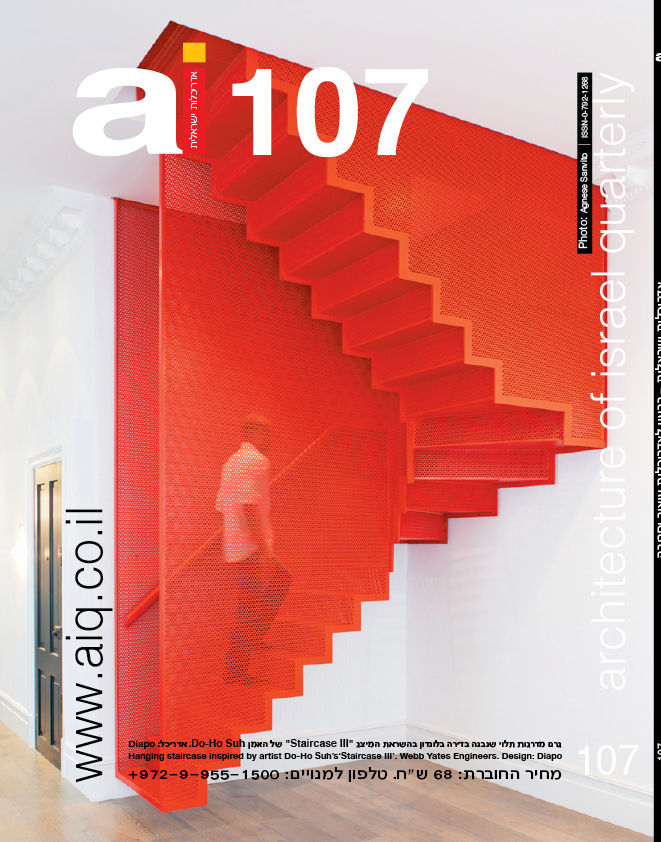 and...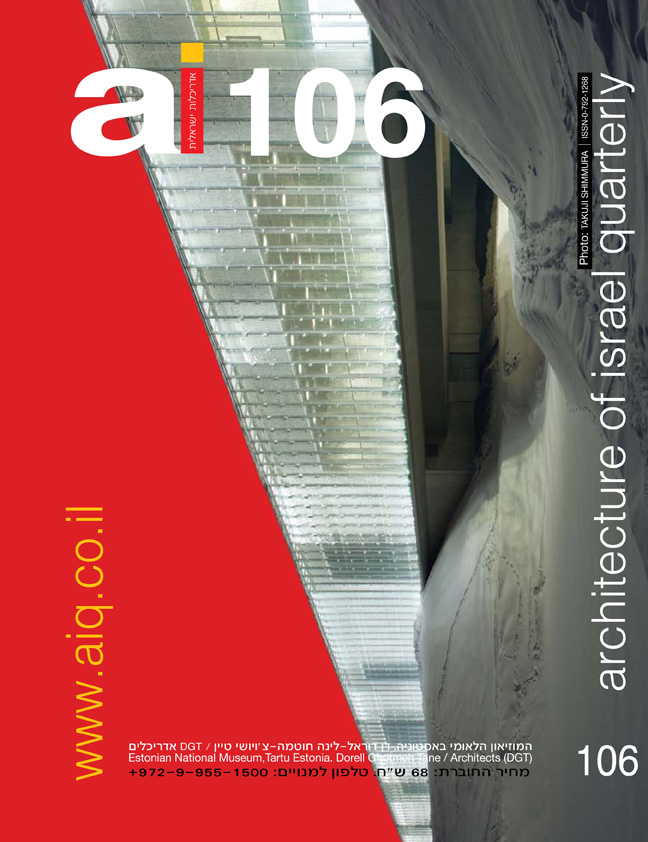 and in...
Sad to die in the middle of July
Ulrik Plesner, one of the most important architects to have left their mark on Israeli architecture, has died at the age of 86. A graduate of the Royal Danish Academy in Copenhagen, Plesner lived in Sri Lanka for 16 years where together with his partner Geoffrey Bawa he was responsible for a variety of significant projects. After heading a team at ARUP in London for about five years, Plesner immigrated to Israel in 1972 and established his own office in Jerusalem. In 1974 he was appointed City Engineer of Jerusalem and two years later he continued to work as an independent architect. Among his well-known projects were Bet Gabriel on the Kinneret, and in Jerusalem - the Liberty Bell Garden, the Bloomfield Garden, Malha Sports Hall, Zionist Confederation House. In 1995, his daughters – Daniela and Maya Plesner joined him and the office moved to Tel Aviv, where they planned the Daniel Rowing Centre on the Yarkon, the American School in Even Yehuda, buildings on the Ben Gurion campus, several private houses and the conservation of Bet H'Pagoda in Tel Aviv and the Printing House in Jerusalem. Plesner was awarded the Rokach Prize, the Rechter Prize, the C.F. Hansen Life Achievement Award, Sri Lanka Architectural Life Achievement Award, and the ICSC Award for the Finest Commercial Center in Europe.

awards & competitions
Registration for the Project of the Year Competition has been postponed due to the political situation that, alter alia, prevented us from presenting the 2015 winning project in Saudia. A little patience, and we're there.

Architect Eran Zilberman of Regavim+ architects has won the David Reznik Prize in the "40/40 exhibition for young architects", for his design of the Arubot kindergarten in Kfar Saba. Chairman of the judging panel Architect Gaby Schwartz, rightly said that "the architect is the director of life's play and as such is responsible for the careful spending of the public budget. The kindergarten reflects modesty, quality, spatial richness, and a sensible use of materials". Eran, who worked for ten years at Mann-Shinar Architects, opened his own office in 2010 and has since designed 11 kindergartens, all of which are unique.

events
The struggle to cancel one of the most cynical laws ever legislated by foolish and ignorant politicians continues - an initiative of the Treasury (who else), reinforcing the relationship between governing and capital by promoting the building of apartments for the rich next to the beach in order to fund housing for the poor. Do you get this Moshe? You keep saying you have extra billions, wouldn't it be wiser to just build affordable apartments, even perhaps not too far from the beach so all of us can enjoy the only public resource the government hasn't smeared with its corrupt hands?

And, in the same vein, Sofa Landver - the Immigration and Absorption Minister announced that from now on, they will publish on line the number of available apartments. Would be funny, were it not so sad.

The Young Architects Forum discussed with representatives of the Ministry of Economy, the possibility of changing the Building Law, to allow automatic registration of architectural graduates, and internship from the fifth year of studies. About time, guys.

exhibitions
Works by Oki Sato, founder of the Japanese Studio Nendo, exhibited at the Holon Design Museum.
Closing: End of October, 2016

book
The book "Richard Kaufman and the Zionist Project" edited by Marina Epstein-Pliouchtch, Michael Levin and assoc. ed. Tsafrir Feinholtz, is out. Detailed article by prof. Michael Levin appears in AI #104.

Projects
Tel Aviv Municipality has approved the plans for a park over the Ayalon highway. Undertaken by Lerman Architects and Town Planners, the park will border Hayarkon Park in the north, Park Ariel Sharon (Hirya) in the south, and what is left of Sarona in the west.

students
Shenkar graduate Yam Amrany – who felt an uncontrollable urge to give free rein to his yearnings, including in his work a small cutting of a naked woman resembling Ayelet Shaked – the most beautiful minister in the ugliest government we have ever known.

The question of whether freedom of expression should be allowed in art works is irrelevant - as long as the intention is not malicious. Yuli Tamir, president of Shenkar, who decided to censor his work, is probably the best witness of this, as she herself (together with architect Amir Mann) founded the "Peace Now" movement, at a time when the word "peace" was perceived as no less provocative. Embarrassed by the media storm directed at him, Yam says that "his work is based on accumulated images of instant thoughts". However, since the subject got out of control, diverting the debate from his artistic talent to his capacity for public relations, here is another piece - judge for yourselves.

This year's final project of the Department of Architecture at Wizo Haifa, dealt with the relationship between city, environment and community. Students were asked to refer to a variety of questions from what part do cemeteries play in the urban context to what can be done with abandoned, contaminated buildings.

Mira Chesla's project "Check In" dealt with the renewed relationship between Ashdod Port and the city. Nave Sidi designed a new democratic space for Israel titled "Politeia". Not sure he realized that Plato's conclusion in his dialogue was that the State needs to be ruled by a king/philosopher, what we already have, after all…

The exhibition of graduates of the Tiltan College of Design and Communications took place in its 2,500 sq.m, 80 year-old building, previously a British bank. Among the works exhibited are graphic design, multi-dimensional design, packing and commercial space, illustration, animation and post-production, screen media design, photography, interior design, the design and development of games and applications. Entrance is free. Closes: October 15.

Out of the final projects at the Ariel School of Architecture, three works stood out: Assaf Cohanim's – "Footnote", which explored the neglected Dora neighborhood in Netania - today populated by Ethiopian immigrants, yet offering an opportunity to become a vital urban space for the benefit of the entire city.

Michal Averbuch's – "Place of Reference" dealt with the questions of what constitutes an Israeli place; and how can one design a place that is an object of longing.

Julia Shlomenzon's "The Silence Between", explores the meaning of spatial continuation, focusing on Hayarkon river that simultaneously connects and separates the two parts of Tel Aviv. Julia suggests applying soft and flowing elements, swearing that any relation to Zaha Hadid is purely accidental.

That's it, please write:
ruchi@netvision.net.il

Issue 105 is out and clever...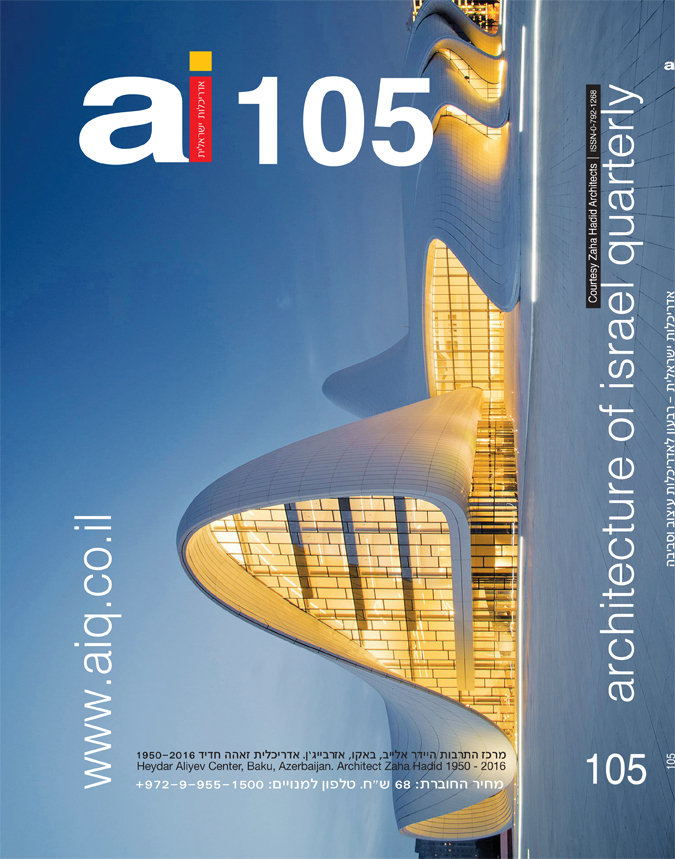 Issue 104 exhibits the finalists in the 2015 project of the year competition

+972-9-955-1500, and it is on its way to you...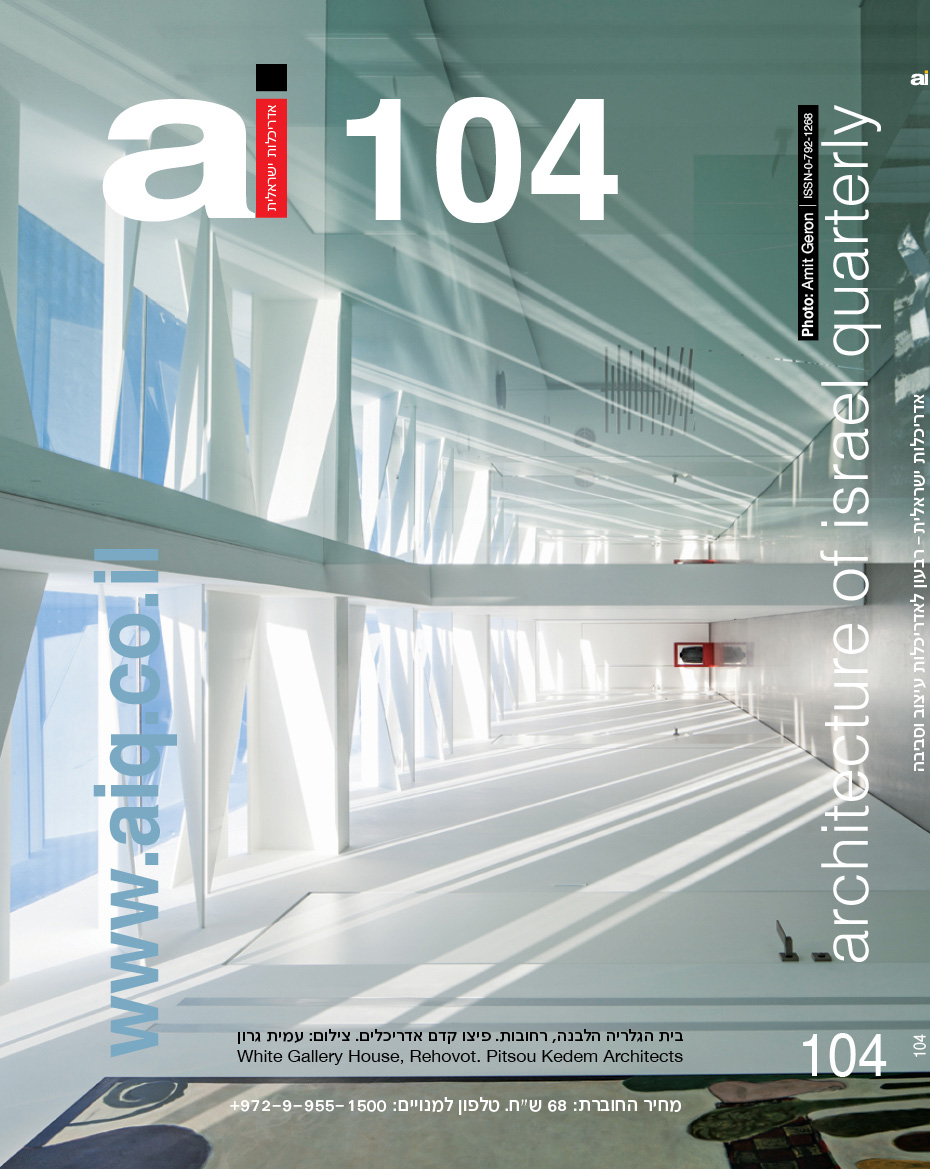 ...and:
awards & competitions

The Pritzker Prize for Architecture was awarded this year to Chilean architect, Alejandro Aravena. According to the judges, Alejandro represents a new trend in architecture where aesthetics has an independent existence. Hence, if one looks carefully at the details of his buildings, one can realize without much effort that there isn't much beyond it. Aravena who will curate the 2016 Venice Architecture Biennale designed alter alia the Siamese Towers at the Catholic University of Chile, some Chilean public housing, and student dormitories in Austin, Texas.

Ella Amitai Sadowski was awarded this year the Anne and Ari Rosenblatt Prize for Israeli plastic artists. The prize includes public relations, NIS 15,000 and a solo exhibition to be held in June, 2016, at Artists' House.

Rishon LeZion Municipality and the Architects Association have announced an open competition for urban planning, architectural design and development at the main entrance to the Narkis neighborhood (previously the Tzrifin military camp).
Judges:
Architect Gaby Schwartz (chair), Mayor Dov Zur, city CEO Franco Gonen, city engineer Eli Yahalom, Director of Education Shosh Nahum, architect Perla Kaufman, architect Sinan Abdel-Qader, and architect Arie Gonen (Secretary). First prize NIS 60,000, second prize NIS 40,000, third prize NIS 20,000, and two honorary mentions NIS 10,000 each.
Submission deadline - 22/03/2016 by 16:00, at the Architects Association, 15 Hamigdalor St., Jaffa.

Mevasseret Zion Council and the Architects Association announced a young architects competition for the local conservatorium. Judges:
Architects: Batia Svirsky Malul (Chair), Liran Chechick, Merom Sinvani Council engineer, Jonathan Lovell, Arie Gonen (Secretary) as well as Yossi Habas, Shlomit Nachshon, and Bezalel Kupervaser. First prize - NIS 30,000, second prize - NIS 15,000 and two third prizes of NIS 5000.
Submission deadline - Thursday, 7/4/2016 by 16:00 at the Architects Association, 15 Hamigdalor St., Jaffa.

The Wilmotte Foundation has announced a student and young architects competition for the design of a bridge building and southern gate in Paris. Finalists' projects will be presented at the Foundation Gallery in Venice and published in a book devoted to the competition. Submission deadline - 21/3/16. Awards, 7,000, 5,000, and 2,000 euros. Judging: TBA.
Details: http://prixw.com

The Holon Municipality and the Israel Museum of Caricature and Comics, awarded this year's Golden Pencil Award to illustrator, comic artist, caricaturist Mira Friedman, for her tremendous contribution to the development of the field of illustration and comics in Israel in the past four decades. A lecturer at WIZO Haifa, Shenkar and Bezalel, Mira was one of the "Actus" Group founders that created a break-through during the 90's for Israeli comics in the international arena.

events

Architect Dan Handel was appointed curator of the Design and Architecture Pavilion at the Israel Museum. Handel – a Ph.D student at the Technion Faculty of Architecture, was editor of Manifest - a journal of American architecture and urbanism, curated several international exhibitions, including Aircraft Carrier, presented in the Israeli Pavilion at the 13th Venice Biennale for Architecture. The Pavilion was founded and headed by Izika Gaon for twenty years, followed by Alex Ward, who retired in 2012.

exhibitions

The exhibition Circles of Life at the Old Jaffa Museum exhibits works by painter and photographer Sarah Geiger-Ginor - a familiar figure on Israeli television. Curator Ziona Shimshi says that Ginor's large paintings and photographs are tempestuous, arousing both questions and identification, and she usually knows what she's talking about. Closing: 05/03/16, 10 Mifratz Shlomo promenade, Old Jaffa.

Works by the artist Nihad Dabit - the first Arab to be accepted to the Talma Yellin high school in Givatayim in 1984 - were exhibited at the Hankin Gallery in Holon. Dabit, who spent some time in jail for using light drugs in Greece, sculpts with wire and pieces of barbed fence - materials symbolizing for him the restriction of freedom. He contends that art doesn't have to be beautiful, it just has to tell a story... to touch. And he is right - this is also true of people.

The exhibition, "Skies and Beyond"/ the boundless imagination of artist Lala Vidra-Yanor presents a variety of works in compound materials centered around the constantly changing skies.
Curator: Daniela Talmor.
Closing: 24/02/2016. Chagall Artists' House, 24 Hatzionut Boulevard, Haifa. 04-8522355.


"Emperor Hadrian Returns to Jerusalem" - an exhibition at the Israel Museum in collaboration with the Louvre Museum, presents the only three surviving bronze sculptures of the Roman Emperor Publius Aelius Hadrianus who razed Judaea to the ground, renaming it "Palestina".
Curators: David Mevorah, Rachel Caine-Kreinin, and Thorsten Opper.
Closing: 30/06/16.


Roots and Wings - solo exhibition of Yonit Kristal who deals with preserving artistic objects and traditional weaving crafts rooted in the history of Israel.
Hankin Gallery, Holon.
Closing: 05/03/16.

students

The Azrieli student prize was awarded this year to Liz Leibowitz from the Technion for her work, "Musha Musha: A new observation of the Hatikva Neighborhood." Noa Gantz won second place for her work, "Minus 400: Rethinking Man/Environment Encounters at the Dead Sea." Third place went to Amit Chelouche of Bezalel for his work, "Total Stage."

Students from the Department of Ceramic and Glass Design at Bezalel presented various interpretations of the Mashrabiya – a traditional Arab shading and separation device. The exhibition was shown at the Bezalel School of Architecture.

books

Anyone heard of a good book lately…?

That's all for now. Write.
Rachel
ruchi@netvision.net.il


issue 103 is out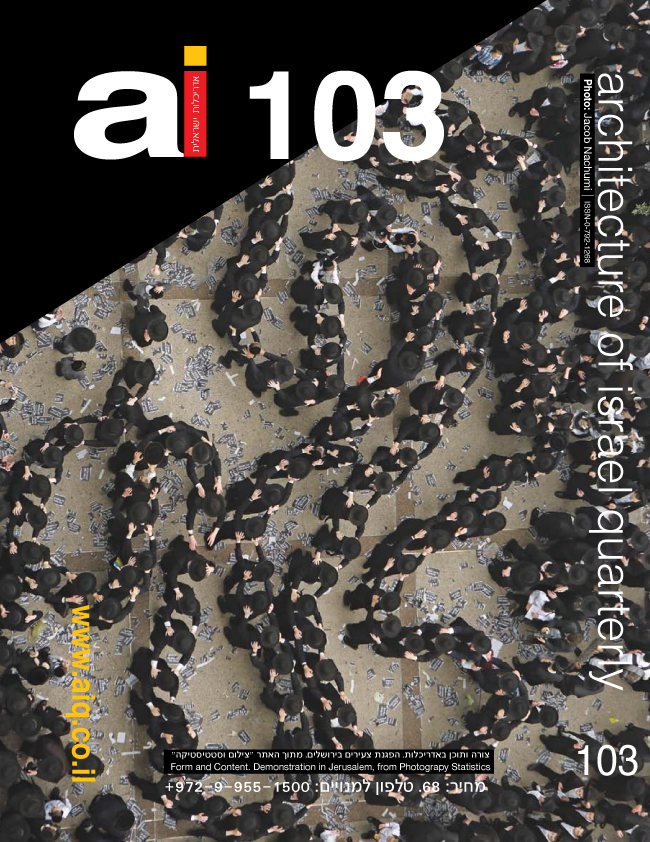 , and...

correction
When writing about the Arab Museum of Contemporary Art in Sahnin (AI#102) we failed to mention architect Abed Yassin,
our apologies Abed.

events
Construction of the Tokyo Olympic Stadium has been cancelled due to prohibitive costs. Japan Prime Minister, Shinzo Abe, announced this two years after Zaha Hadid won the tender. The dramatic decision is puzzling, particularly due to the fact that Hadid's design was an important factor in Japan's defeating Istanbul and Madrid in the competition to host the 2020 Olympic Games. Intended to seat about 80,000 spectators, the stadium was planned to be built instead of the National Olympic Stadium, constructed in 1964, near the gardens of the Meiji Shrine. Hadid had promised that the building with its convertible roof would become "a shrine to the sports world for the next hundred years". But, the wave of criticism directed at her, accompanied by epithets such as "bike helmet", "turtle" and "toilet seat", have won the day.

The Regional Building Committee has approved the overall master plan for Tel Aviv - TA / 5000, after debating the many objections.

The Young Architects Association chamber at the Architects Association claims that the last licensing examination was not only irrelevant in terms of its contents, but also unfair, allowing the use of laptops in one of the classrooms, when this was forbidden in the remaining classrooms.

A 165 meter high tower is to be built on the ruins of the Eden Cinema on Agrippas Street. Designed by Daniel Libeskind and Yigal Levi, the project has aroused (justified) public opposition, particularly in light of the fact that the building, shaped like the hat of an American clown, was recommended by the Jerusalem Conservation Committee. Collaborating with Libeskind in the master plan for Ground Zero, Yigal Levi was also the local architect of the Calatrava Bridge - another joke of the city decision makers, who still find this oddity attractive. At the conference in opposition to the structure organized by the Jerusalem architects branch, Levi claimed that the real height of the tower is not 165 meters, but only 118 meters, since the shpitz consists only of support beams. Shpitz - an important detail...

awards & competitions
Tel Aviv University has announced an international design competition for a new building at the Nanoscience and Technology Center near one of the main gates. The new building will include research laboratories for the employment of 120 researchers. The international competition will select the company with the best concept, design and realization plan, to be managed by the Strelka KB Company. The first phase will see the selection of 21 proposals, six of which will reach the semi-finals, and three will compete in the finals. The winning company will be chosen after negotiations with the university administration.

The Egyptian Ministry for Urban Renewal and Informal Settlements announced a competition for the design of the Maspero Triangle in Cairo – a complex of 350 hectares in the center of Cairo intended to house 14,000 inhabitants. http://goo.gl/QZRd24

The open competition for redesigning the public space of Weizmann street, Kfar Saba, was won by architects Ronnie Friedman and Shoham Simchi and landscape architects Rakefet Sinai, Osnat Kaslassi Kotzer, and Shoham Kaslassi Levi. Second place went to Einat Schiller. Yehuda Or Naimi received an honorable mention. The winning plan aspired to exploit the potential of the park designed in the eighties by former city engineer Joseph Kolodny and landscape architects Dan Zur and Lipa Yahalom, while restoring the lost dignity of Beit Sarah Aharonovitz, designed in 1928, and currently used as a WIZO building.

exhibitions
The exhibition "Not in One Day" presents works by Avital Burg, Naama Berkovitz, Eleanor Ray - who describe three random scenes in the life story of a house, from construction to a point where it stopped serving as a home. Rothschild 69, Tel Aviv.
Curator: Architect Nini (Nissan) Warszawski.

The exhibition, Cycle of Life, presents the work of artist Victor Romano. Making his living for 40 years as a silk printer, he began to express his artistic capabilities on computer.
Bat Yam Art Gallery. Curator Dr. Joel Yasur.

French artist, Lirone, creates 3D photographs that change their appearance depending on the spectator's point of vision. Although registering his patent in 2011, it seems to me that Agam has been using similar methods for forty years.

The exhibition Funtastico will present the works of Spanish artist Jaime Hayon.
Holon Museum, 28/11/15 – 2/4/16.

Messe frankfurt 2016 will open in January 2016, at the Frankfurt Fairs. Annually marking international trends in house facilities industry, the event has become a meeting place for manufacturers, buyers, distributors, architects and designers. More than 4,800 companies from 95 countries, 23 of which are Israeli.
Talbar Media, representatives of the Frankfurt fairs in Israel, 077-5621900.

projects
The new Whitney Museum in the meatpacking district, Manhattan, is one of the most talked about subjects in New York. Designed by master of natural light - Renzo Piano whose resume includes the Pompidou Center, in collaboration with Richard Rogers. Situated on Gaansevoort St., the building consists of glass walls with contrasting exposed concrete. Exhibition spaces are expanded to open balconies from which one can view the city landscape. The elevated building is connected to the industrialized district and the steel construction supporting the railway upon which the High-Line Park was designed.
Reporting by architect Michal Yiftach Rotem.

The famous Rainbow Tower in Milan has been updated in the frame of Expo held during the summer. Located near the Porta Garibaldi close to the business quarter of ​​Milan, the building was covered with more than 100,000 ceramic tiles, restoring the original color of the tower that served as a water tower for the railway station during the sixties.
Renovation Architects: Francesco Roggero, Albino Pozzi, Rita Alfano Roggero and Kiyoto Ishimoto.

students
In the Shadow of the Ethiopian Protest - final project by Ababa Marie from the Media and Design Department at Ariel, includes traveling photos of the Ethiopian community in Israel, focusing on three key issues: the Ethiopian Buna Ceremony (making coffee), traditional dress, and the Amharic language.
Beautiful and moving.

books
The book, "If Architecture is a Language a Building is a Story" describes and illustrates the work of Beer Sheva architect Elli Armon. Accompanied by spectacular photographs Eli Armon practically demonstrates how architects from the periphery successfully cope with the architectural profession, achieving heights on an international scale. Valuable and worthwhile.
30% discount for AI subscribers.
+972-9-955-1500
That's it,
Yours, Rachel Ben Aharon - CEO AI
ruchi@netvision.net.il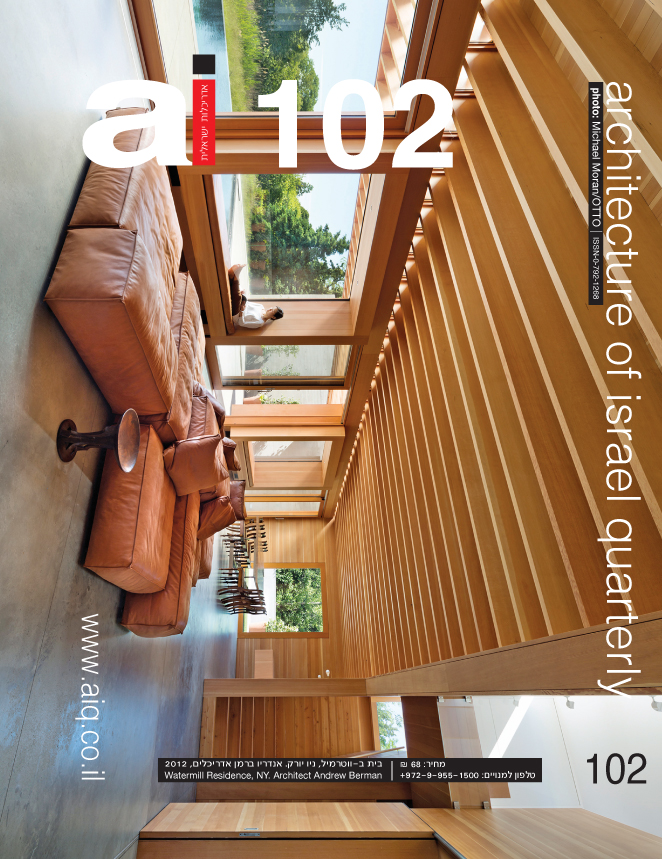 competitions & prizes

The international competition for the design of the Guggenheim Museum, Helsinki, was won by the architectural firm of Nicolas Moreau and Hiroko Kusunoki out of 1715 participants. Although the office was established in Paris only in 2011, both partners have experience in well-known firms, such as Shigeru Ban, SANAA, and Kuma Kengo, where they were involved in important projects such as the Théâtre de Beauvaisis in Beauvais, The House of Cultures and Memories in Cayenne, the Polytechnic in Bourget-du-Lac and the District Court in Paris, designed by Renzo Piano.

departed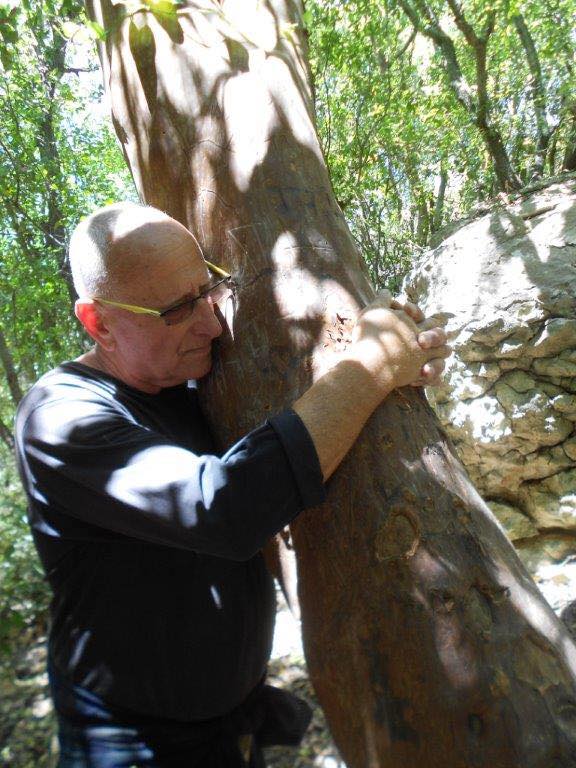 The late Froyke Machnai
competitions & prizes

The international competition for the design of the Guggenheim Museum, Helsinki, was won by the architectural firm of Nicolas Moreau and Hiroko Kusunoki out of 1715 participants. Although the office was established in Paris only in 2011, both partners have experience in well-known firms, such as Shigeru Ban, SANAA, and Kuma Kengo, where they were involved in important projects such as the Théâtre de Beauvaisis in Beauvais, The House of Cultures and Memories in Cayenne, the Polytechnic in Bourget-du-Lac and the District Court in Paris, designed by Renzo Piano.

departed

Architect Marian Grynhaus who designed the Histadrut Building on Arlosorov with Dov Karmi, Beit Hadar Dafna, and Israel's first round building on Rothschild Boulevard, has died, joining a number of architects whose impact on the world of architecture has been undeniably great: Avraham Yasky, Ram Karmi, Nahum Zolotov, Moshe Zarchi, Charles Correa, Michael Graves, Aryeh Sivan, Dan Tzur, Yitzhak Yashar, Leopold Gerstel and Moshe Lofenfeld.

Two months ago we lost our friend Froyke, who brought to Israeli architecture most of the advancement in metal work. A man of vision, wide knowledge…and heart, which probably granted him a righteous death at the age of 69.

exhibitions

Illustration Week will be held in Tel Aviv, September 3-12. The public is invited to visit and participate in dozens of exhibitions, workshops, encounters with illustrators, illustrations, and outdoor fairs.

Israeli Museum of Caricature and Comics, Holon, presents three exhibitions by illustrators inspired by events and characters from the Bible: Noah's Ark, Abraham, Samson, and Esther.
Curators: Assaf Gamzou, Nissim Hizkiyahu, Michal Paz-Klapp.

An exhibition marking the 50th anniversary of Israel/Germany diplomatic relations is presented in five pavilions decorated with the colors of both countries' flags. Promoting the sale of furniture and home design solutions, it is fine PR for KARE and curator Gal Yaari - one of the company owners in Israel.
The Origami exhibition "Fold the Square" presents a wide variety of origami works. Origami comes from "Oru" (folding) in Japanese, and "Kami", (piece of paper). The Beit Meirov, Holon. Closing: August 22, 2015.
Curator: Saadya Sternberg.

projects

The Israeli pavilion at Expo 2015 - Fields of Tomorrow - is attracting enormous interest. Focusing on the hunger and poverty problem in underdeveloped countries - the main motive of Expo this year, provides a fine opportunity to expose the achievements of Israeli agriculture, balancing the less popular and painful "achievement" that lowers us in the eyes of the world. Made of a vertical field the pavilion reflects modern agriculture based on drip irrigation, conveying the message far and wide. With an area of 1,000 sqm., the pavilion consists of lecture halls, classrooms, administration, cafeteria and service spaces. The number of visitors expected - about two million. Nice!
Architects: Knafo Klimor.
Construction: Rokach Ashkenazi.

The Arab Museum of Contemporary Art in Sakhnin, AMOCA, has opened. The museum - a joint initiative of Belu-Simion Fainaru and Avital Bar-Shay (initiators and curators of the Mediterranean Biennale in Sakhnin) and the Sakhnin Municipality, has so far over 200 international art works and will exhibit works by Arab and Jewish artists from Israel and abroad. The opening exhibition - HIWAR - a dialogue in Arabic intending to encourage relationships of trust, cooperation and hope for a better future. Amen.
Architect: Abed Yasin.Closing: 31/12/15

students

AI August issue falls (well, not really…) on end of the year events, providing us with an opportunity to compare the different disciplines practiced in the main schools of design and architecture.

Bezalel
Katya Losev's project - "Gardens of Jaffa" dealt with the problem of suburbanization. Focusing on Jerusalem Boulevards, Katya suggests densifying the sparse neighborhood.

Focusing on Emek Hamaayanot Hadar Beeri and Anat Alon suggest redisigning the gradually deserted settlement, based on a contemporary reading of reality and highlighting unique characteristics.
Ariel
Graduates of this year were divided into five work groups, trying to investigate the question Architecture - What Now, What's Next? The answers are shown in an exhibition at the Amiad Cultural Center in Tel Aviv Flea Market. Closing on 19/08/15 with a lecture by architect Bracha Chyutin.

Avni Institute
Interior Design graduates worked this year re-designing an abandoned building in Or Yehuda. Robin Grecht's project, "Secret Garden" used green walls to form offices, boutique shops for plants, and work spaces.

Christine Emerzian's project - The Market, created a market and entertainment center in the form of a packing house in which spaces are read out in motion.

Holon Institute of Technology
About 60 graduates dealt with the impact of the digital Cloud on actual reality. Elad Peretz, proposed the addition of open public spaces on the upper floor of apartment buildings.

Maayan Fuks suggested a new residential form at the center of which are virtual technologies.

Yocheved Frimer created a sand installation telling the story of the Gush Katif evacuees.

Valeria Munis's project used 120 personal odor containers to create an archive of smells.

WIZO Haifa
Ricki Kakoon's project "Illuminating Margins" dealt with the neglected Aqueduct at the edge of Acre, turning it into a connecting element.

Anat Shaul investigated the layers that make up the cement plant and quarry in Nesher.

Itamar Neiger offers a new interpretation of the switchboard building at Bat Galim, turning it into an energy research center.

books

Architect David Kroyanker published his new 20th century multi-cultural design lexicon, entitled "Jerusalem Design - God is in the details". Written in English, the lexicon consists of 1,420 pages in eight volumes, with 3,500 illustrations, exposing the cosmopolitan cultural details of nationalities and religions that have left their mark on the appearance of the city.
Please write: Rachel - ruchi@netvision.net.il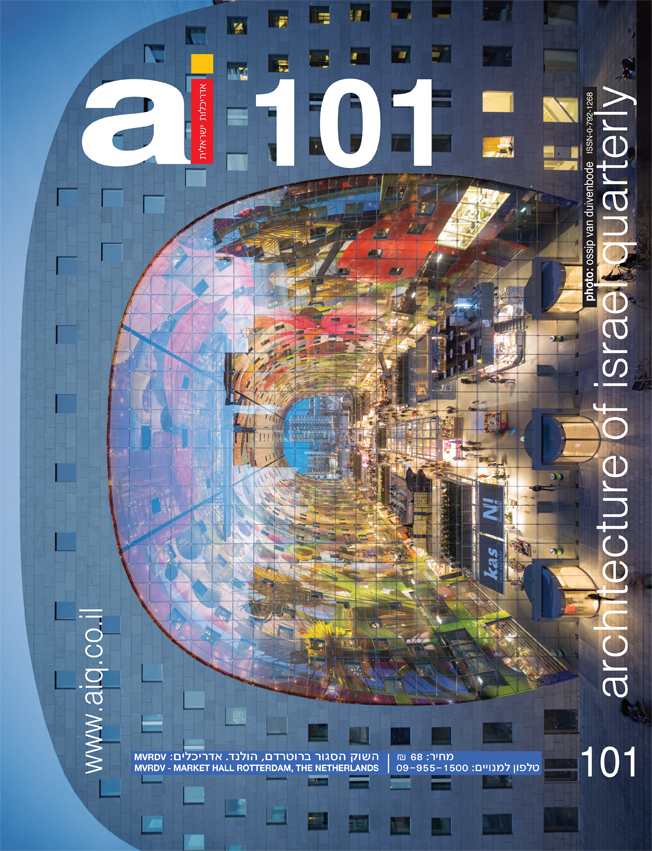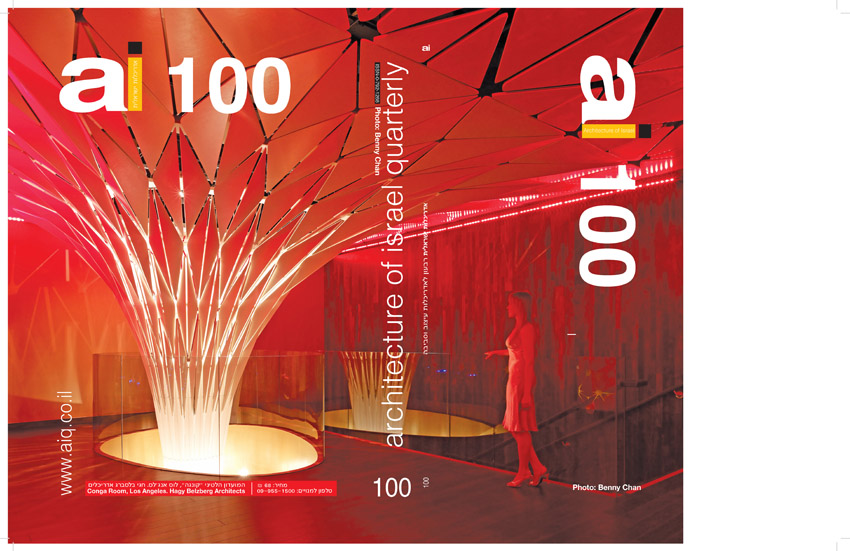 awards & competitions

The Israeli National Lottery (Mifal Hapais) has cancelled the closed competition for the new headquarters in Ramla, after the several invited firms had already heavily invested hard on their proposals. Mifal Hapais controls a budget of billions channeled to local authorities on the nauseating condition that they carry its explicit "name". It's about time this "plant" was dismantled, as it produces nothing but jobs that reinforce the relationship between capital and governing.

The Sammy Ofer Stadium in Haifa ranked eighth in the 2014 International Stadium of the Year contest, and third in the category of visual impact on surroundings. First place went to the Al Ain, United Arab Emirates out of 32 stadiums around the world. The Sammy Ofer Stadium was designed by the KSS firm in London, in collaboration with the Israeli firm, Mansfeld-Kehat Architects.

The International competition for expansion of the WHO building in Geneva, has not been determined, but we were able to peep into Israeli architect Osvaldo Stav's entry. Designed in 1959 by Swiss architect Jean Tschumi after winning an international competition, the building was defined by UNESCO in the strict conservation category. Stav allocated the required functions (25,000 square meters) in two structures: A conference center, and an office building bridging it with the Tschumi structure, taking advantage of the topography to create a garden on the entrance level. Jean Tschumi is the father of no less well known an architect - Bernard Tschumi.

exhibitions

Expo 2015 - the world's largest design exhibition held every five years – took place this year in Milan. The subject of the exhibition was Feeding the Planet and the Israeli pavilion, designed by Knafo Klimor Architects, presented Israel's achievements in agriculture technology, entitled: "Fields of Tomorrow".

The exhibition "Donkey Now – the Image of the Donkey in Israeli Culture" - is now at the Negev Museum of Art, Beersheba, until the end of May.
Curated by Prof. Siona Shimshi – it can only be interesting.

The international bestseller, "A Brief History of Humankind" by Prof. Yuval Noah Harari, is now exhibited at the Israel Museum. The book is based on an undergraduate introductory course at the history department of the Hebrew University, initially taught by a dozen different lecturers, and later only by Harari. The book examines the course of history over 70 thousand years, focusing on the events and revolutions that have changed the life of Man.

The exhibition "Tin Man" at the Farm gallery in Holon, exhibits furniture and art pieces made of used car parts, by artist, Ronen Wasserman. Closing: 30/05/15
Curator: Dr.Guy Morag Tzepelewitz.

Installation by designer Ewlain Khoury and artist Yaakov Hefetz, The Echo in the Void and Reflections on the Ravages of Time - was presented at the Meishar Art gallery. Expressing her personal perspective, Eilain expresses the Nakba ("disaster" in Arabic) - the name given to the expulsion of some 700,000 Arabs during the War of Independence. A graduate of WIZO Haifa, married to a senior physician at a hospital in Haifa, mother of two gifted violinists, Eilain is the opposite of the refugee stereotype; building her dream to live in Israel, not as a victim but with rights and respect.

"Concrete Games" - exhibition by architect and artist, Sharon Pazner, presents concrete and recycled material works, on the subject of playfulness, with a humorous nature.

projects

Check Point building construction is about to begin at the TLU campus. Intended to serve the Department of Computer Science and science-seeking youth, the design is inspired by the image of the cyber-cloud, striving to transcend the heavy material world of construction, for the virtual, de-materialized world of computers. The unique envelope is made of a double-skin mantle that gradually changes its levels of transparency in various areas, both randomly and deliberately. Construction was enabled once Kimmel Eshkolot Architects proved its feasibility at a reasonable cost.

Space Park in Ashdod is presently planned at the northern area near the port, Nachal Lachish and Givat Yona. The project was designed by architect Ilan Bar Ilan in collaboration with the Space Research Institute, Eran Gazit, who established Mini-Israel and BRC that specializes in designing theme parks in the US.

students

David Azrieli Student Award winners are:
Shared first prize: Marian Meirovich, from Wizo, Haifa, with her project (H2O)3D that analyzes the natural water infrastructure of Wadi Salib in Haifa.
Supervisors: Prof. Horacio Schwartz, Shahaf Zayit, Zvi Koren, Liran Chechik.

Shared first prize: Omri Schwartz, from the Technion, with his project "Field Economy"
Supervisors: Eitan Kimmel, Julia Grinkrug
(no second prize)
Shared third prize: Lena Arbov, from the Technion, with her project "Land Reform".
Supervisors: Shmaya Tzarfati, Dr. Dorit Freshtman, Prof. Dan Eitan.
Shared third prize: Liran Yehuda Shukrun from Ariel, with his project "Terra Nova" - the concept of the Mediterranean as a necessary requisite for dense urban areas.
Supervisors: Prof. Beni-Reuven Levy, Yoav Lanir, Itzik Elhadif, Udi Mendelson, Dana Oberson, Dr. Edna Langenthal.
(all supervisors are architects).

Consisting of three choreographers from Israel, Greece and Switzerland, MAMAZA collective was invited by the design team of new master plans for the Technion campus. The Collective carried out three days of artistic activities around the campus, listened to and was impressed by the opinions of students, lecturers, researchers and staff.

An amazing exercise in public relations, both for the planners and members of MAMAZA.

books

Edited by architect Tagit Klimor, the book, "Sustainable Architecture Towards a Holistic Approach", consists of a number of her articles and a selection of works on the subject accessibility and sustainability, carried out in the framework of first and second degrees at the Faculty of Architecture and Town Planning at the Technion.


That's it for now.
Please write to me:
ruchi@netvision.net.il