Editorial 60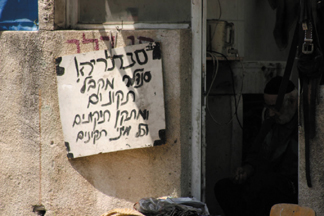 If we give up crazy ideas, we are left solely with stones
            Saturday morning, only channel 33 and Mother, watching the best of Israel's singers in a 70's black-and-white production. Zvika Pick looks like Apollo, Shlomo Artzi - like junior, and Yoram Gaon - like Hayarkon Bridge Trio in its prime. Im leafing through philosophical writings, reflecting upon Wittgensteins comparison of psychotherapy to philosophy in that both disciplines, while mistakenly convinced that they are the solution, actually constitute the problem itself. Between Zvika and Shlomos son, my automatic pilot translates this intriguing thought to architecture. After all it was Wittgenstein who claimed that our philosophical problems stem from misconceptions caused by the misuse of language.
            I feel a bit embarrassed at blaming architecture; it was she who gave me livelihood and reputation, and I have no intention of blaming her in vain. But what needs discussing is the blind idolization of irrelevant configurations created by skilful architects somewhere in Berlin, Barcelona or New-York, and now prevailing all over our place.
            "Tolerant architecture openly accepts all the crazy, eccentric and mad come-and-go ideas; they all grant her beauty and significance, without which she is meaningless. It looks as if architecture is half stones and half crazy ideas", (Shulamit Har Even, more or less). If we give up the ideas, we are left solely with the stones.
            "Young is beautiful", says Mother, "aged is eh' and old - yuck". I don't hesitate long, lift the gauntlet and try to transfer the humane phrase to architecture. Changing the syntax a bit, I come up with an improved version: new buildings are temporary, aged is real, and old buildings sometimes feel miserable, deserted and needy.
            On the background of the political situation which has "succeeded" in deforming so much local architecture, theres a new plan for renovating the deserted Arab village of Lifta. Lying at the western entry to Jerusalem, the village was a place of inspiration for strange visitors, romantic architecture seekers, and those who smoke themselves. Stone builders have deconstructed many of Liftas houses to use their stones in pretentious villas, but the vernacular tissue has proven again that, unlike the totalitarian one, the organic survives against all odds.
            Today, when we are fed up with testing the borders of our power, when we finally realize that the other side has also learned the phrase with cunning make thy war, it's about time we adopted the idea that architecture you make with love, or you don't make at all. Lifta is not another place to eat artificial humus, but a unique chance to save the aged houses from 56 years of misery. A chance to desert the administrations fortune-making strategy that only betters the better off, and instead - let anyone who so wishes, live there in peaceful harmony, away from the ringing bells of plans whose philosophy is to make fools of us.
Dr. Ami Ran
P.S. Mother is by no means old.
חזרה לגליון 60
back to issue 60