Between The Comforts Of Eilat and The Beauty Of Dahab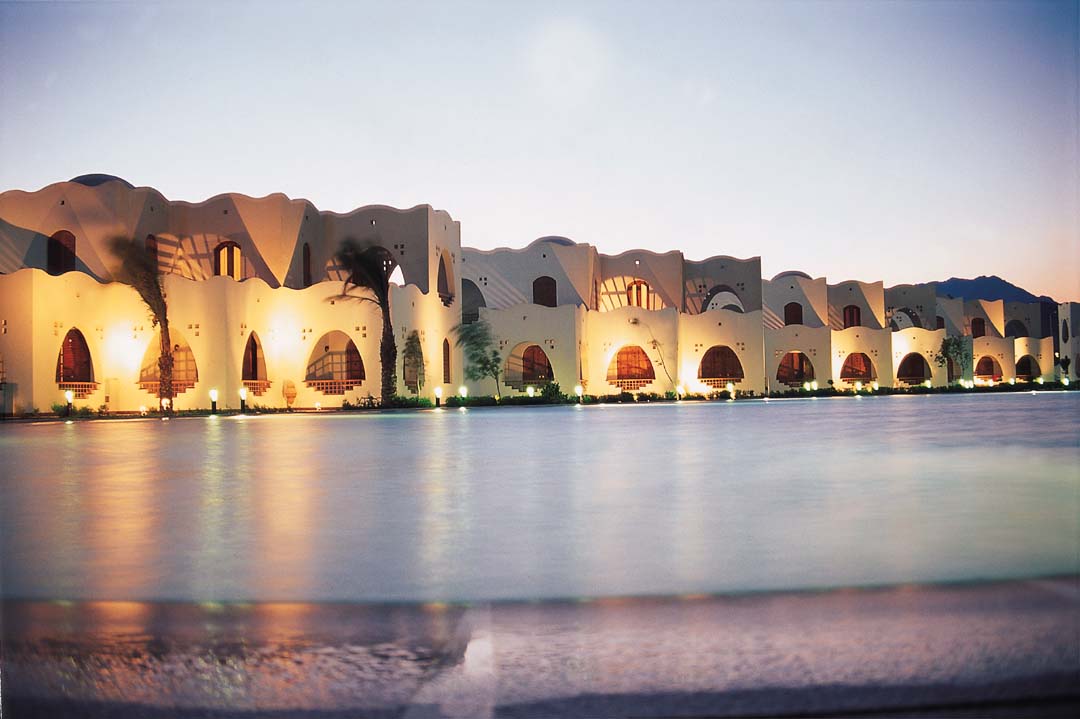 The main attraction of the resort of Eilat is the Red Sea. The desert has its own unique charm, but after a cross country journey, the tourists attention is firmly focused on the water. Being some kilometers from the beach, the Sunrise Hotel at kibbutz Eilot presents the need to offer alternative facilities for tourists. However, given that the tourists often choose the hotels poolside over the towns crowded beaches, the problem is not unsolvable. Hence, the architecture of the larger beachfront hotels in Eilat is often drawn from the creation of thrilling fantasies of exotic beaches in all their imaginary aspects.
The Sunrise Hotel has also employed this guiding principle in designing the 'Blue Boulevard', a watery trail of swimming pools, aquariums, a stream, a fountain and an ornamental pool, connecting the hotels components. The boulevard is designed to grant the guest a feeling of closeness to the water. At the center of the hotel sits a huge pyramid-shaped steel and glass structure, the largest of its kind in Israel, around which are set the hotels main functions. Passage through the pyramids different levels is angled; at the center is the swimming pool, a celebration of waterfalls, desert boulders and tropical plants. The pyramid structure complies, at least poetically, with the desert landscape. It gives a sense of coolness and serenity, a mirage set in the desert. Its location at Kibbutz Eilot and the alternative theme of a 'desert city', defines its horizontal morphology. Two hundred and seventy six, two- storey residential constructions are spread over a modest 8 acre plot. The alleys, reminiscent of the casbah, soften the transition from the air-conditioned rooms to the arid exterior. With a little imagination, the buildings, constructed around roofed patios, recall a North African township reinforcing the idea of an 'oasis city.' According to the architects, budgetary constraints meant that many elements in the landscape development, such as stone paving, shading pergolas and fountains, are yet to be built. The serene desert, the service and the abundant food, combine to make up for the absence of any sea.
חזרה לגליון 40
back to issue 40